Tomb Raider PC specs revealed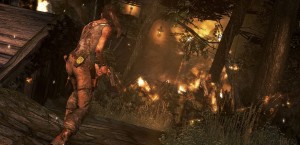 0
COMMENTS
DEVELOPER: Crystal Dynamics
COMPANY: Square Enix
POSTED:

@PierceJohnson
---
Square Enix has released details of the minimum system requirements for Tomb Raider on PC.
The studio converting the game to PC is Nixxes, who previously worked on the PC versions of titles such as Deus Ex: Human Revolution and Tomb Raider Underworld.
Square Enix is calling the PC version 'extensively optimised', with features such as improved resolution textures.
Check out the minimum and recommended requirements below:
Minimum system requirements for PC
Windows XP Service Pack 3, Windows Vista,7,8 (32bit/64bit)
DirectX 9 graphics card with 512Mb Video RAM: AMD Radeon HD 2600 XT, nVidia 8600
Dual core CPU: AMD Athlon64 X2 2.1 Ghz (4050+), Intel Core2 Duo 1.86 Ghz (E6300)
1GB Memory (2GB on Vista)
Recommended system requirements for PC
Windows Vista, Windows 7 or Windows 8
DirectX 11 graphics card with 1GB Video RAM: AMD Radeon HD 4870, nVidia GTX 480
Quad core CPU: AMD Phenom II X2 565, Intel Core i5-750
4GB Memory
Tomb Raider is set for a 5 March launch. Be sure to check out our single player preview and our exclusive interview with Eidos Montreal's Joe Khoury.