AGTV: Tomb Raider producer interview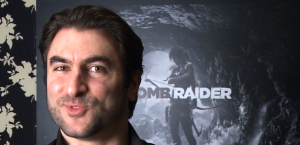 2
COMMENTS
DEVELOPER: Crystal Dynamics
COMPANY: Square Enix
PLATFORM:
Xbox
PlayStation
PC / Mac
POSTED:

@MTamerA
---
Since the announcement that Tomb Raider would be localised into Arabic last week, there has been no end of interest from Arab gamers across the globe.
Late last week we even saw the first trailer in Arabic, as well as the interview with the Lebenese actress and model Nadine Njeim who voices Lara Croft in the localised version.
This week we're happy to announce (and for those of you that have been following our coverage, you'll know) that we've done a developer interview with Joe Khoury, the mulitplayer producer on the game. It's the first developer interview that we know of that's been done in Arabic, and we're very excited to share this with you.
We talk about Joe's passion for the Arab gamers, as well as the importance of the region in the industry, and why Tomb Raider is now in Arabic.
You may have also have read our other news with Joe, but if you've not, we recommend you do.
But for now, let's not waste any more time. Here it is in all its glory: