Star Wars: TOR manager explains free-to-play shift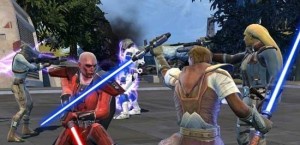 0
COMMENTS
DEVELOPER: BioWare
COMPANY: LucasArts
POSTED:

@PierceJohnson
---
Star Wars: The Old Republic is moving into a free-to-play model to encourage fans to carry on with the game.
BioWare Austin general manager, Matthew Bromberg, said the biggest reason players left The Old Republic was the subscription fee.
Bromberg told CVG: "Well we looked at it and thought, what is the size of opportunity for your brand? There are tens of millions of Star Wars fans, how many have tried our game? How many would like to try it? Clearly the awareness of the brand is really high so what's standing in the way?
"We did a lot of research and found that people who gave it a try but left found the subscription to be the biggest barrier. So it was a pretty straightforward decision for us."
Bromberg also said that while there is risk of an income drop, players would see the value in the experience they are being offered.
He added: "Yes there is that risk, but we feel our existing subscribers see the value in the premium experience we are offering. We want to keep that full experience for them.
"One thing we're doing is rewarding subscribers with in-game currency for all the time that they've been subscribers, and lapsed subscribers will have currency for the time they were there, which offers them a reward for coming back."
It was recently announced that Star Wars: The Old Republic would go free-to-play in November.