The Old Republic becomes free-to-play in November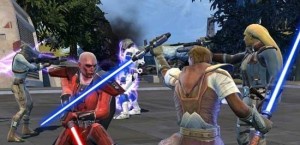 0
COMMENTS
DEVELOPER: BioWare
COMPANY: LucasArts
POSTED:

@PierceJohnson
---
EA has confirmed Star Wars: The Old Republic will introduce a new free-to-play option in November.
The new option lets players control each of the eight character classes up to level 50.
Players will be restricted on access to content and advanced features, but most restrictions will be unlockable with Cartel Coins.
Cartel Coins is a new system of virtual currency, with coins being put towards buying new items, customisable gear and other features.
Current players will also receive rewards based on how long they've been playing. For every month played they'll receive 150 Cartel Coins.
General manager of Bioware, Matthew Bromberg, said: "Players want flexibility and choice. The subscription-only model presented a major barrier for a lot of people who wanted to become part of The Old Republic Universe."
Executive producer, Jeff Hickman, said: "We believe we are in a position to help improve the service even more, not only by continuing to add new content, but also by expanding the game to many more Stars Wars fans, increasing the populations on worlds and the vibrancy of the community."
To prepare for the transition to free-to-play, The Old Republic will go on sale for $14.99 USD this month with a free one month subscription.