Star Wars: The Old Republic patch out tomorrow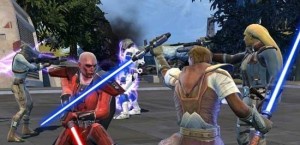 0
COMMENTS
DEVELOPER: BioWare
COMPANY: LucasArts
POSTED:

@PierceJohnson
---
A new patch for Star Wars: The Old Republic will go live tomorrow.
The patch, titled Allies, will add some key updates to the game.
These include a Group Finder tool, Legacy Perks, Ranked Warzones and Adaptive Gear.
The Legacy System will include Advancement Perks, allowing you to customise your leveling.
The Group Finder tool will enable players to form a party quickly for Flashpoints, Warzones, Operations or Planetary Heroic missions.
The game will be down for scheduled maintenance tomorrow, after which the new patch should be available.
Check out the game's website for full details on what to expect in the new patch.