FIFA 13 UK cover stars revealed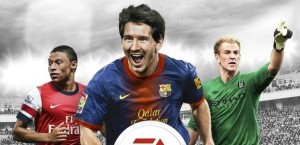 0
COMMENTS
DEVELOPER: EA Sports
COMPANY: EA
PLATFORM:
Xbox
PlayStation
Nintendo
Mobile
PC / Mac
POSTED:

@PierceJohnson
---
EA Sports has revealed Lionel Messi, Alex Oxlade-Chamberlain and Joe Hart as the FIFA 13 cover stars for the UK.
The announcement was made via the EA Sports YouTube channel.
Arsenal star, Oxlade-Chamberlain, said: "I've always been a massive fan of the game. I'm absolutely delighted, I can't really believe it."
As a result Wayne Rooney doesn't feature on the cover of a FIFA game for the first time since 2005.
EA said: "Wayne and the FIFA franchise have achieved phenomenal success but the time feels right for both parties to explore other avenues.
"We wish Wayne the very best of luck in the future and we look forward to him accomplishing even greater success for both club and country."
Check out our FIFA 13 coverage such as interviews with the developers and screenshots for the Wii U version.
FIFA 13 is expected to launch 28 September.