FIFA 13 preview - hands on first look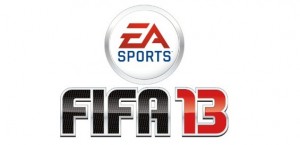 0
COMMENTS
---
As the football season comes to an end, the virtual football world is on the verge of its yearly summer madness. In the closest battle for years, FIFA 12 maintained EA's firm grasp of the football gaming market, however, the signs of recovery from their rivals at Konami mean the FIFA development team must deliver again to maintain that dominance they have enjoyed for over half a decade. So, what do Rutter et al. have to offer this year with the highly anticipated FIFA 13?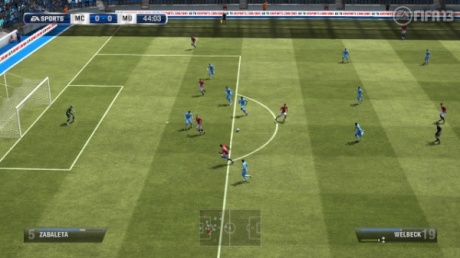 FIFA 12 was an exhilarating game, that provided breath-taking moments of football realism but in a way it lacked focus on some of the fundamentals of a football video game. For all its fantastic technical achievements, the game suffered slightly from a sub-par artificial intelligence. For this reason the primary focus of the development team this season, was to enhance last season's trinity of gameplay improvements whilst improving the artificial intelligence that ultimately drives the game. The FIFA development team's primary objectives were to implement "a revolution of game-changing features" that aim to "capture the drama and unpredictability of football". Have they delivered at this early stage?
The most striking difference with this season's offering is the instantly obvious battles for possession in all areas of the pitch. Long gone are the days of flawless first touch control by every single player on the pitch. By fine tuning the Player Impact Engine and adding First Touch Control battling for possession of the ball becomes a true challenge. Depending on the technical abilities of the player you are controlling and various other factors including the body positioning of the player, timing, velocity and trajectory of the ball, first touch in game becomes contextual with an almost limitless number of possible outcomes. Add into the mix the physicality of the modern game (Player Impact Engine) and you have quite an impressive system to determine First Touch and Ball Control in-game.
From now on you'll have to think twice about your next move whilst the ball is on its way to your player. If you're receiving the ball with Drogba in the attacking third, then it might be worth taking advantage of his strength and control to bring it down and form an attacking play. Alternatively, if you're receiving the ball on the defensive end and controlling a certain Jamie Carragher then I highly recommend getting rid of it ASAP (if in doubt, kick it out) rather than trying to control and risk losing possession to a striker breathing down your neck. Initially the new system can seem frustrating, particularly as you seem to lose possession and make unforced errors, however, but it adds that necessary extra level of realism to the game.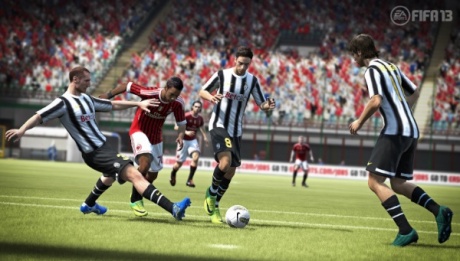 The First Touch Control system adds a welcome sense of unpredictability to FIFA that will influence players to approach the game in a different or new way. Those who like to hold the Sprint button for 90 minutes will re-evaluate their strategy, particularly as the first touch is influenced by the physicality system and the push-pull elements. What is crucial is how this system is fine-tuned over the next four months pre-launch in order to reduce the risk of a gulf between the abilities of great players and average players.
The most promising improvements come on the attacking AI front, with players making significantly improved dynamic runs combined with intelligent positioning. The introduction of curved and stuttered runs in order to stay onside is a pleasure to see. Even more so is the ability of players to move into spaces intelligently and commit to runs and decisions. Although it isn't instantly apparent, given time you will notice the more dynamic nature of the player movement in this year's game, in contrast to the often static nature of FIFA 12.
The complete dribbling system this season is an element of FIFA Street that most fans will be glad to see re-engineered for FIFA 13. Using both triggers to activate, it allows players to maintain controlled dribbling and possession whilst facing one direction and moving in another and also performing deft skill moves and simple flicks to beat a man. Ball possession all of a sudden becomes an even more pleasurable experience. Free-kicks will become an art in FIFA 13 and with an impressive list of improvements that include, adding and removing players from the wall, players creeping out from the wall and more customisable free-kick play options. We are expecting YouTube to quickly become flooded with Argentina '98 style trick plays. Quick free-kicks that occur in the middle of the pitch are more fluid, with attacking team players quickly fetching the ball for a quick restart whilst others struggle to position themselves in-time.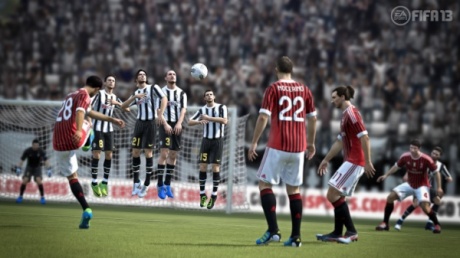 On the defensive end the Tactical Defending system has been tweaked so that standing challenges are so committed and completely rule the player out of play once performed. Physical defending is also more prominent with defenders stepping in to block attackers using their bodies. During our time with the game we didn't notice any changes to the shooting system or mechanics in-game. The passing in FIFA 13 though has been tweaked, with it feeling a little more "manual" even with the assisted controls setting. There seems to be more dependence on user directional input accuracy with the passing this season, which provides this more "manual" feeling.
As expected though, the animations in FIFA 13 have been given a great boost with a much wider variety of new challenges, block and dives. The goalkeepers appear to have been given a lesson in acrobatics from the UK gymnastics team in the run up to this year's London Olympics. Player aerial animations though are visibly more realistic this year with improved timing that appears to give them more air-time.
Although it's still early days, FIFA 13 looks to be on track to impress its huge global following. With a wide range of great gameplay improvements to provide a much more realistic experience compared to last year, we look forward to seeing what else the FIFA team have to announce in the lead up to this year's launch.