Halo 4 trailer during England vs. France EURO game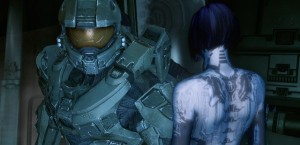 0
COMMENTS
DEVELOPER: 343 Industries
COMPANY: Microsoft
POSTED:

@PierceJohnson
---
The extended version of the Halo 4 E3 trailer will air during half-time of the Euro 2012 match between England and France.
The trailer is expected to be shown at approximately 1745hrs (BST) tonight on ITV.
The clip will show Master Chief on the planet Requiem, about to face an unknown and terrifying threat that sits at the heart of the Halo 4 campaign.
There has been a lot of anticipation surrounding the new Halo game, especially as Bungie has ceased developing the title.
At E3 this year 343 Industries, the devlopers at the helm of the IP, revealed some exciting content and information which gamers can expect in the newest iteration.
The campaign will see the return of Master Chief, as well as Cortana, his digital love. The story/campaign will further develop the characters in the game. You can also expect a whole load of episodic content, as well as a new way to play multiplayer.
You can find out all about it here, so if you want anymore information, then check here, here or here. The orginal E3 trailer is there too. Or here.
Halo 4 is set for release on 6 November.