CONFIRMED: Halo 4 release date 6 November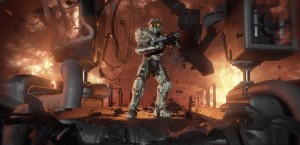 0
COMMENTS
---
A new report from The Verge claims Halo 4 will be released on 6 November.
The report claims 343 Industries and Microsoft will make the announcement of the date today at 1700hrs BST.
The announcement is allegedly linked to the US TV chat show Late Night with Jimmy Fallon suggest a number of Microsoft staff tweets linked to Conan O'Brien.
The senior producer at 343 Industries, Alison Stroll said in a tweet: "A little birdy (or was it Andy?) told us @TeamCoco will have some big Halo 4 news tomorrow. Stay tuned! #incoming #wakeupjon", while the famous Major Nelson has also tweeted: "Look for #Halo4 news on the way in the next 24 hours. Hint: @TeamCoco plays a part!"
If all this is true, then we can expect to see Halo 4 before E3, at E3 and at GamesCom ahead of its release at the end of the year.
UPDATE:
So it's official, Microsoft has announced Halo 4 and the return of Master Chief on 6 November.
Halo 4 will follow the story of Master Chief after the events of Halo 3, set four years after and will see the epic hero confront his destiny and face the "ancient evil that threatens the fate of the entire universe," according to the press release from Microsoft.
"We are beginning a new saga with Halo 4 and embarking on a journey that will encompass the next decade of Halo games and experiences," said Phil Spencer, corporate vice president of Microsoft Studios. "Millions of fans worldwide have been eagerly awaiting the opportunity to step back into the boots of Master Chief, and with Halo 4 leading the charge, we're confident 2012 will be the most successful year in Xbox history."
We're excited. Are you?