Star Wars: The Old Republic adds 2 million users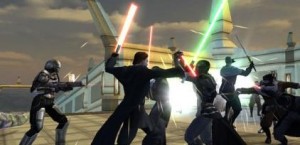 0
COMMENTS
DEVELOPER: BioWare
COMPANY: LucasArts
POSTED:

@PierceJohnson
---
Star Wars: The Old Republic has seen an increase of 2 million users since the switch to free-to-play last November.
The struggling MMO was forced to turn to the free-to-play model after players were put off by a subscription fee.
It seems like the switch was the right thing to do though, as players have been flocking to the game ever since.
"Our new, high capacity servers are teeming with people," wrote executive producer Jeff Hickman.
"Since launch of the free-to-play option we have had over 2 million new accounts created and have thousands of new players jumping in every single day.
"This means more people to play with, more growth for your guilds, more Warzone matches, and more ways for players to continue to advance their characters."
An expansion for The Old Republic, titled The Rise of the Hutt Cartel, is set for a release this spring. Click here to watch a trailer.