First Assassin's Creed 3 DLC gets release date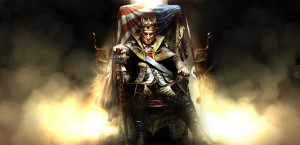 0
COMMENTS
DEVELOPER: Ubisoft
COMPANY: Ubisoft
PLATFORM:
Xbox
PlayStation
Nintendo
PC / Mac
POSTED:

@PierceJohnson
---
The Tyranny of King Washington, the first batch of DLC for Assassin's Creed 3, has been given a release date of 19 February for Xbox 360 and PC.
PlayStation 3 owners will be waiting until 20 February to download it, while no date has been mentioned for a Wii U version.
It'll cost 800 Microsoft Points or £7.99 GBP, but those who bought the Assassin's Creed 3 Season Pass for 2400MP/£23.99 GBP can get it for free.
The Tyranny of King Washington is the first of a three-part storyline that puts players into an alternative historical setting, where a wicked George Washington has crowned himself King.
Click here to check out a trailer for the DLC.
Those who haven't played Assassin's Creed 3 yet can read up on our review here.