More information on Assassin's Creed 3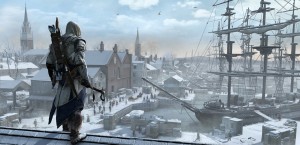 0
COMMENTS
DEVELOPER: Ubisoft
COMPANY: Ubisoft
PLATFORM:
Xbox
PlayStation
Nintendo
PC / Mac
POSTED:

@MTamerA
---
More screenshots and information about Assassin's Creed 3 has been released from Ubisoft.
The latest is the compatibility of the game with the Wii U, with US Nintendo magazine claiming the functionality of the console's tablet will provide a link to the Animus, as well as display a persistent map.
The Wii U controller screen may also enable quick-touch weapon enabling as well as allowing players to bring up Connor's Eagle Vision. If the reports are correct, then we can assume players will be able to scan the screen, and the world no less, with the Wii U controller for clues.
Yesterday Ubisoft released more screenshots and a new trailer is also available.
Check it out.