Ubisoft coy on Assassin's Creed III gameplay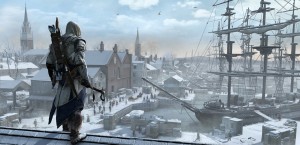 0
COMMENTS
DEVELOPER: Ubisoft
COMPANY: Ubisoft
PLATFORM:
Xbox
PlayStation
Nintendo
PC / Mac
POSTED:

@PierceJohnson
---
Assassin's Creed III will feature gameplay secrets that won't be released until launch.
Creative director for the new title, Alex Hutchinson, said Ubisoft would be keeping quiet on several details so that fans are pleasantly surprised when they finally get to play it.
Hutchinson told IGN: "We've managed to keep some secrets. The games industry is terrible for secrets, and I'm kind of bored of working on things where everybody's seen everything before we launch. So we wanted to keep a bunch of secrets… up to ship.
"There's some cool stuff. If you buy the game there's two or three really big systems that we won't talk about unless I'm defeated by marketing in a pitched battle."
For more details on Assassin's Creed III including screenshots, click here.
Assassin's Creed III is set for release 31 October.