Sumo Digital: Sonic & All-Stars Racing Transformed is innovative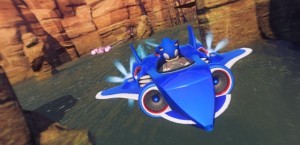 0
COMMENTS
DEVELOPER: Sumo Digital
COMPANY: SEGA
POSTED:

@PierceJohnson
---
Sumo Digital has claimed that Sonic & All-Stars Racing Transformed is an innovative kart racer that Nintendo could learn from.
The game launched last week for Xbox 360 and PlayStation 3 to critical acclaim, while a Wii U version will be available from 30 November.
Executive producer for the racer, Steve Lycett, is proud of what his team has achieved and claimed that Nintendo could use some of the game's features in the next Mario Kart.
"Not only does the multi-surface play [we] have make [Sonic & All-Stars Racing Transformed] very fresh, but we're also exploring lots of different Sega games which really varies the levels you'll play on," he told MyWiiU. "Mario Kart tends to stick to the Mario universe instead.
"On top of that the split-screen everywhere mantra means that you can take five players all the way through the game, and online, which is a big step up from what's been before.
"What I'm hoping is Nintendo will now have to take a leaf from our game for their next Mario Kart. I think we've pushed the genre forward with this game."
Check out our preview for the Wii U version of Sonic & All-Stars Racing Transformed here.