Sonic & All Stars Racing Transformed to come to Wii U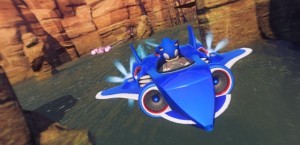 0
COMMENTS
DEVELOPER: Sumo Digital
COMPANY: SEGA
PLATFORM:
Xbox
PlayStation
Nintendo
Mobile
PC / Mac
POSTED:

@MTamerA
---
Sumo Digital, the developer behind Sonic & All Stars Racing Transformed, has suggested the game could now be released on Wii U.
The developer is unable to say much more as Nintendo has placed an embargo on all Wii U news and development in, what we think, a bid to keep as many announcements for E3 as possible.
The arcade racing sequel, which did exceptionally well when released a couple of years ago, is one of a few flagship titles we can expect to see on Nintendo's new console.
Joe Neate, producer at Sumo Digital told newspaper Metro that he "couldn't possibly tell" anyone if Nintendo has put an embargo on releasing any development hints.
The only thing he did offer up was his thoughts on bringing the game to the new console, " wouldn't it be a great idea to get [Sonic & All-Stars Racing] onto a platform like the Wii U!"