Sonic & All-Stars Racing Transformed gets screenshots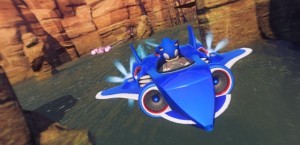 0
COMMENTS
DEVELOPER: Sumo Digital
COMPANY: SEGA
PLATFORM:
Xbox
PlayStation
Nintendo
Mobile
PC / Mac
POSTED:

@PierceJohnson
---
New screenshots have been released for upcoming Sonic & All-Stars Racing Transformed.
The game is a different take on the traditional kart racer as players compete across land, water and air in vehicles that transform mid-race.
Dynamic tracks will also change as players race, allowing alternate routes and new power-ups to be discovered.
Over 20 playable characters from the world of Sega are featured from games such as Sonic the Hedgehog, Super Monkey Ball, Jet Set Radio and Crazy Taxi.
Check out screenshots and a trailer below.
Sonic & All-Stars Racing Transformed arrives 16 November for Xbox 360, PlayStation 3, PC, 3DS and PS Vita before being released as a Wii U launch title on 30 November.