Assassin's Creed Anthology features all games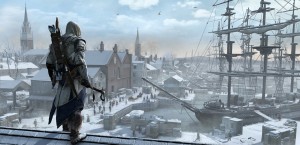 0
COMMENTS
DEVELOPER: Ubisoft
COMPANY: Ubisoft
PLATFORM:
Xbox
PlayStation
PC / Mac
POSTED:

@PierceJohnson
---
Ubisoft has confirmed the existence of an Assassin's Creed Anthology, featuring all five games from the series.
A retail listing for the anthology popped up on Amazon France earlier this week, suggesting all the games could come bundled in one collection.
An Ubisoft representative has since told Eurogamer that the listing is legit and full details are to be revealed later this week.
The Anthology will include the original Assassin's Creed, Assassin's Creed 2, Assassin's Creed: Brotherhood, Assassin's Creed: Revelations and just-released Assassin's Creed 3.
All downloadable content will be included as well, such as the missing chapters from Assassin's Creed 2, the Leonardo expansion from Brotherhood and the block puzzles from Revelations.
We'll bring you more as it breaks.