FIFA 14 review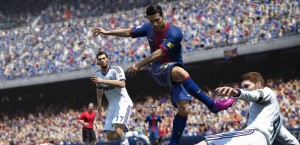 0
COMMENTS
DEVELOPER: EA Sports
COMPANY: EA
PLATFORM:
Xbox
PlayStation
PC / Mac
POSTED:

@PierceJohnson
---
FIFA 14 is hard. If last year's game was a thrilling 4-4 draw with two European football giants, FIFA 14 is a tight and tense affair between defensively resolute clubs who make you work for every shot on goal. While this may make for a truer recreation of what happens on a real-life football pitch, it doesn't necessarily translate into a better videogame, and before long you might just start craving the goals again.
The harder gameplay is due to the guys at EA Sports deciding to slow things down slightly in the middle of the pitch. First touches are slightly heavier and now defenders emerge upon you in a devilish pace, sometimes in pairs. The result is a midfield battle that will see you either having to pass the ball backwards if you want to keep possession or lose it and risk a lethal counter-attack.
Playing through teams is harder than ever before, and only the most gifted players will be able to dance through defenses using the skill moves. Scoring goals becomes a game of trial and error, as opposition players scurry back to perform a last ditch tackle to stop you getting clear. The most successful method is to get the ball out to a pacey winger who can whip in a deadly cross to a target man, while heading seems to be a much more potent ability this year.
However even that approach can prove rather difficult, speed merchants have a much harder time getting the ball past defenders now, and even if you do manage it a lot of the time you'll be pulled back or muscled off the ball. When one of the fastest players in the world, Cristiano Ronaldo, is struggling to run by a solid but significantly slower full-back like Manchester City's Pablo Zabaleta, you know it's going to be a tough day.
When you finally do manage to break through on goal and go one-on-one with the goalkeeper, things are slightly better. Shooting has also been tweaked this year, so the way balls move in the air after shots is much more unpredictable. They swerve and dip, and if you hit a shot with one of the game's better players you can score some truly fabulous goals. This means 30-yard curlers and goals with the outside of the foot, goalkeepers truly have their work cut out for them in FIFA 14.
Elsewhere the menus at the start of the game have been given a complete overhaul. Instead of flicking through tabs you'll now see a window panel in front of you and from there you can select which mode you want to play. It's a lovely new look compared to FIFA 13's banal menu system, which was starting to show its age.
Those modes include FIFA Ultimate Team, something that EA Sports has been pushing heavily in the last few years. For those who don't know, Ultimate Team lets players build their own clubs using real-life players in the form of cards. Taking part in games and tournaments awards players with coins, which can then be spent on new card packs to improve the team. There's also a chemistry dynamic, so selecting players who have the same nationality or play for the same club in real-life will improve your chemistry score and therefore have your players perform better on the pitch.
There's also the career mode if you fancy something a little bit more traditional, and you can take on the role of either player or manager. Manager mode still doesn't begin to compare with what you can achieve in Sports Interactive's Football Manager series, but it allows you to perform the basic tasks before taking control of the team on match day.
Skill games make a return and they're slightly improved as well, with a bit of variety added to the different challenges. Your score in skill games is automatically compared with friends who have played FIFA 14 so expect to repeat most of the tasks as you look to best their points totals.
The mode that seems to take up most of my time is Seasons, where you play one on one against an online competitor and have the chance to earn promotions from division ten all the way up to division one. It's as addictive as ever, and the temptation to have "just one more game" before bed is always there. Making its debut this year is co-op Seasons, where players can join up with a partner to take on two other players in the league format.
As usual, this year's FIFA is one that's packed with a whole host of game modes that will keep you occupied right up until next year's offering. There's plenty to admire here, and it's probably the most realistic representation of football in a videogame yet. However it can't quite match the free-flowing style and fun of FIFA 13, which favoured goals and spectacle over the midfield battle. Purists will love FIFA 14 like a child, but casual players might be better off sticking with last season's game.