FIFA 14 to focus even more on connectivity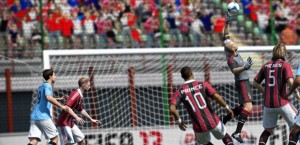 0
COMMENTS
DEVELOPER: EA Sports
COMPANY: EA
PLATFORM:
Xbox
PlayStation
Nintendo
Mobile
PC / Mac
POSTED:

@PierceJohnson
---
FIFA 14 will place an even greater focus on connectivity, according to executive producer David Rutter.
The last game in the series, FIFA 13, included social features so that players could keep up to date with friends.
Rutter says that FIFA 14 will take those features even further this year.
"For someone with a connected console you're completely connected with the EA Sports Football Club component of the game now," he told WhatCulture.
"Everything you do in the game counts towards your level, you can see what your mates have been up to.
"We're delivering data updates on professional players and injecting challenges from real matches. You can download an App to keep track of your EASFC stuff, and manage your Ultimate Team too from the bus or workplace. You're right - it'll get even more like this in the next few years."
Rutter added that the single player game would still be an important part of the FIFA experience.
"Narrative has played a big part over the last year or two in career mode. It's something we're keen to push forward as well.
"Seriously, there are a ton of people who still enjoy single player experience. Career modes in particular remains a massive mode in FIFA and remains a big focus for us."