Grid 2 review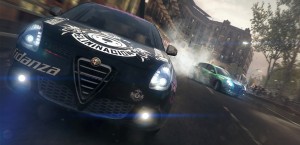 3
COMMENTS
DEVELOPER: Codemasters
COMPANY: Codemasters
PLATFORM:
Xbox
PlayStation
PC / Mac
POSTED:

@PierceJohnson
---
Usually racing games manage to fit into one of two labels. They can either be arcade racers - games that exist for the thrill of the moment as players dodge oncoming traffic and glide through the air at ridiculous speeds - or they can be simulations - games that try their best to replicate real-life scenarios and offer petrol heads their chance to be virtual superstars. The problem with Grid 2 is that it suffers from a bit of an identity crisis, and in the end you wonder just what kind of audience this is aimed at.
The game starts off simply enough, placing you straight into a race from the opening credits. From here you get to become acquainted with the controls and how cars handle in Grid 2, and eventually you'll be informed of millionaire Patrick Callahan's plans to create World Series Racing, bringing the best racers together from around the globe. After impressing in your opening race Callahan wants you to become the poster boy for the event, which means you'll be spending the coming hours trying to gain fans and winning competitions.
We'll start off with the good, and there's plenty of good. Grid 2 excels on the road. Either speeding past opponents on your way to yet another win or pulling off that perfect drift round a tricky bend, there is plenty of fun to be had here. It takes a bit of patience and dedication to master at first, and you can be sure that there'll be plenty of crashing and rewinding, but after a few hours, when you really get into it, you'll start feeling like a pro.
Cars look superb and they handle pretty well. Some might feel quite light, especially when drifting around corners, but it's nothing to be too concerned about and you should get used to them quickly. Cars can also take damage, and there's an option to make it purely aesthetic or set it so that crashing into too many walls will eventually write off your ride.
Unfortunately the cockpit view that served players so well in the first Grid has been scrapped. It's an understandable decision given how much game space the view takes up, and Codemasters claim that only a small percentage of players raced using the cockpit view anyway. But it will still irk the dedicated racing fans who like nothing more than seeing the steering wheel turn as they speed around the track.
There are plenty of modes to keep you occupied instead of the usual, normal races against a field of competitors. There are one-on-ones, where you have to go up against a single rival, Elimination, where the last driver in a lap is taken out of the game, and Checkpoint, which grants you extra time every time you reach a checkpoint.
There's also the interesting Overtake mode, where you rack up points by overtaking pickup trucks on a circuit and try not to crash, and Endurance, which is basically a longer version of a normal race. Then there's LiveRoutes, a mode that changes the layout of a track as you're driving through it so that things don't become too predictable. As far as game modes go, Grid 2 does pretty well.
We also see the return of the Flashback feature from the original game. Flashback allows players to instantly rewind the race, so if you decided to turn too late and accidently careered off the road you wouldn't have to restart the event from scratch to stand any chance of winning. It was an amazing innovation when it was first introduced, and it still serves its purpose here. You can't be too liberal with the feature though, as you can only use it a limited amount of times in one race.
Locations and tracks are also lovingly created, although some have a lot more life than others. Driving through the California Coast track is one of the game's biggest pleasures, but it's also one of the toughest due to the urge to look at the scenery just before every sharp turn. Grid 2 could be criticised for a slight lack of tracks, but it definitely takes good care of the ones that it did include.
Off the track things can get slightly messy. Grid 2's user interface is a step up from the original, but that isn't saying much. After every race you'll be choosing what to do next via a computer, sifting through new invitations and deciding which one takes your fancy. You'll also have the option of looking through your car collection and customising them to suit your tastes.
However customising is limited to the outside of the car only. You won't get to change the specs or performance of any car, just the colour and sponsor logos. You don't get to shop around for new cars, either. You simply have to win them in races, which will no doubt take some fun away from players who like to search for bargains.
Moving online and there's a whole different structure to get used to. The multiplayer uses a leveling system, and there's money to be earned here as well that you can spend on upgrading your cars. Our experience with the online stuff wasn't great, as just navigating the menus and finding a game to play took too long. Hardcore fans will probably be satisfied, but casuals will likely pass it over before too long.
All the bad points added together doesn't mean Grid 2 isn't a superb racer, because it is. Or at least, it's a very good one. But by lacking focus in certain areas it's simply bettered by its rivals. Those with a penchant for arcade racers need look no further than last year's outstanding Forza Horizon, or even Need for Speed: Most Wanted. Players that live for shaving milliseconds off their best lap times after numerous play throughs have the Forza Motorsport series or Gran Turismo. So where exactly does Grid 2 fit in?
Basically it's a stopgap before the heavyweight racing games come out a bit later in the year, but there's no shame in that. This is still a game that will have you clocking up the hours and keep you entertained while you're at it. It's not exactly edge-of-your-seats stuff, but racing aficionados will find plenty to cheer about here.