Homefront: The Revolution release date confirmed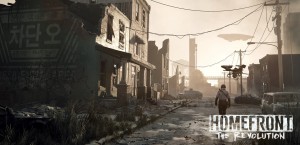 0
COMMENTS
DEVELOPER: Crytek
COMPANY: Deep Silver
PLATFORM:
Xbox
PlayStation
Nintendo
PC / Mac
POSTED:

@MTamerA
---
Deep Silver has confirmed Homefront: Revolution will release in May with a beta scheduled for February.
The news came last week after our friends at xboxachievements when the team saw a reservation card from US retailer Target.
Deep Silver today confirmed by announcing the European and North American release dates as being 17 May and the 20 May respectively.
Deep Silver also announced there would be a limited closed beta exclusively on XBOne. You'll be able to gain access by keeping an eye out for promotions from both Microsoft and Deep Silver where Tokens will be given away; which will give you access to the beta.
Deep Silver has also released a new trailer called This is Philadelphia showing the occupation of Philadelphia and the Yellow Zones - the militia police enforcing the regime.