Ubisoft announces new South Park game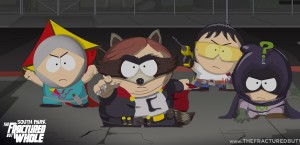 0
COMMENTS
DEVELOPER: Ubisoft
COMPANY: Ubisoft
PLATFORM:
Xbox
PlayStation
PC / Mac
POSTED:

@MTamerA
---
Ubisoft has announced there will be a sequel to the incredibly funny, and highly scored, South Park: The Stick of Truth.
The game, called The Fractured but Whole, will once again take control of the "new kid" and join the famous foursome on what can only be expected to be another hilarious game.
The game's mechanic will be very similar to before, an RPG-action affair with scope to level up whatever class you choose. It's more than likely going to only feature four classes. And crafting.
As for the story, this time it'll be a crime driven story where you'll be investigating the darker side of South Park with Coon and friends. Coon is Cartman's crime-fighting alter-ego who is half man, half racoon. His mission is not to dispatch of crime and criminals. No, The Coon wants his band of super-hero brothers to be the most popular. So it begins.
Trailer below. You can expect it on PS4, XBO and PC. Don't ask for a date yet. We reckon it'll be summer next year. Ubisoft are yet to confirm.
And no. This game will most probably never be localised into Arabic. So don't ask…!