New Afro Samurai game incoming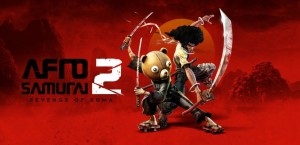 0
COMMENTS
DEVELOPER: Redacted Studios
COMPANY: Versus Evil
PLATFORM:
Xbox
PlayStation
PC / Mac
POSTED:

@MTamerA
---
The first trailer showing the sequel to the 2009 hit game, Afro Samurai, was released at E3 earlier this week.
We loved the original game, despite it not having the voice talents of Samuel L Jackson, it was still a pretty engrossing and gruesome hack'n'slash affair that brought many hours of joy to us.
The art style is still the same; that lovely anime, cell-shaded and bold lines style, and not too far away from the art style of the animated series.
Kuma's revenge takes him on a journey to find Afro, the man he blames for the deaths of his loved ones. You can find out more in the trailer below.
Game available later this year on XBO, PS4 and PC.