EA announces new puzzle platformer Unravel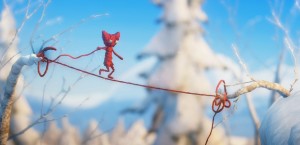 0
COMMENTS
---
EA has announced it will reveal a new puzzle platformer game called Unravel which sees the thready protagonist, Yarny, on an adventure in some stunning environments.
The physics-based puzzler promises to deliver unique physics-based gameplay in a beautiful environment. And we're also promised we'll fall in love with Yarny, the single thread character who'll drive the story.
"The idea of Unravel was created from a very personal place. We didn't start out by saying we're going to make a puzzle platforming game. We started by thinking more about our lives, and the things we hold meaningful. We wanted the game to have a heart and the gameplay could always be designed to represent that," says Martin Sahlin, Creative Director at Coldwood. "The tale of Unravel is about love, and the bonds between people. And the yarn is a representation of that. Yarny's red thread is the tie that connects everything in the game, from the gameplay mechanics to the story, and the people in it."
Unravel will be available for digital download on Origin for PC, the PS4 and XBO.
You can see the trailer below.