Goat Simulator heads to mobile platforms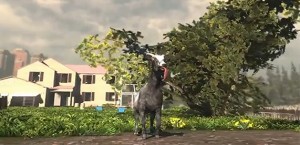 3
COMMENTS
POSTED:

@PierceJohnson
---
Coffee Stain Studios has brought the bizarre game Goat Simulator to iOS and Android devices.
Goat Simulator famously lets players take full control of a goat, crashing into things and causing havoc around town.
It even comes with a variety of bugs, as the developers thought they made the game "hilarious" so they kept them in there.
Goat Simulator is priced at just £2.99 GBP and you can pick it up right now.