Escape from Paradise detailed with screenshots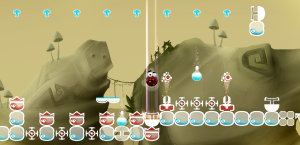 0
COMMENTS
COMPANY: Game Cooks
POSTED:

@Zee_ZS
---
Lebanese studio Game Cooks has released a new title called Escape From Paradise.
The game is inspired by realities in the Middle East, where a funny looking character called Divi bites on a poisionous mushroom that sends him to a paradise that he tries to escape. It resembles the status quo in the region that has a heavenly side to it, yet we want to escape it.
Escape from Paradise is a side scrolling game for iOS and Android devices. Divi can be customised in ten different creative ways. Players are required to finish the game in a fast manner, collecting mushrooms and potions which will all contribute to their final score.
The game is available in a lite version, a full version for iOS and it is also available for Android on Google Play and on Facebook.
You can watch the trailer and enjoy the screenshots below.