Quarrel Deluxe price slashed on iOS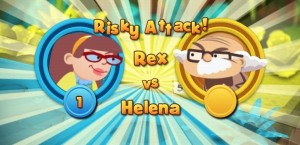 0
COMMENTS
---
Quarrel, the Scrabble-come-Risk based board game available on iOS, will be available for £0.69 GBP ($0.99 USD) until 7 May.
The game, which launched on Xbox Live Arcade earlier this year, brings together the strategy element of board game Risk and the puzzle element of Scrabble. You have to take over territories by composing high-scoring words from the variety of letters you're given.
Although there are four game modes (Quick Match, Make Match, Domination and Daily Challenge) our favourite is Domination, which takes the World Domination element of Risk and sees you on a rampage to complete the board in your colours.
Other features include nine characters to defeat and the ability to tweet your silly, made up words.