FIFA 14 on Xbox One and PS4 uses Ignite Engine, PC doesn't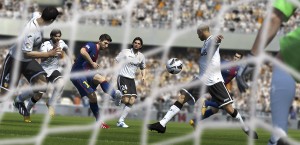 0
COMMENTS
DEVELOPER: EA Sports
COMPANY: EA
PLATFORM:
Xbox
PlayStation
PC / Mac
POSTED:

@PierceJohnson
---
EA has confirmed that the next-generation console versions of FIFA 14 will run on the new Ignite Engine, but the PC version won't.
The news was revealed by a FIFA community manager on Twitter.
"Clarification for the PC related questions earlier," wrote Rob Hodson. "EA Sports Ignite will power FIFA 14 on Xbox One and PS4, not PC."
The new EA Sports Ignite Engine was announced at the Xbox One reveal yesterday, where it was said to improve sports games in a number of ways.
This includes giving players greater intelligence and better body animation, however it doesn't look like the PC version of FIFA 14 will see any of these new features.
Check out a trailer for the EA Sports Ignite Engine below, featuring the best footballer in the world Lionel Messi.