Splinter Cell: Blacklist's Wii U features detailed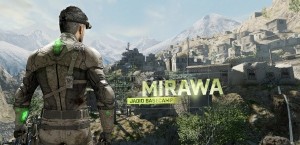 0
COMMENTS
DEVELOPER: Ubisoft
COMPANY: Ubisoft
POSTED:

@PierceJohnson
---
A retailer listing has revealed new details about the Wii U version of upcoming Splinter Cell: Blacklist.
Splinter Cell: Blacklist for Wii U was announced recently, but Ubisoft didn't reveal details about how the GamePad would be used.
Now Amazon and other retailers have detailed the GamePad functionality.
"Splinter Cell Blacklist offers enhanced gameplay options on the Wii U," reads the listing.
"The Gamepad mimics Sam's OpSat, allowing the player to operate gadgets such as tri-rotor drones, sticky cam and much more through touch and motion based inputs.
"The Wii U GamePad allows for faster reaction times, letting the player mark and execute enemies, switch weapons and choose gadgets to adapt to any situation.
"Track your friends' missions and see what Splinter Cell Blacklist players are doing worldwide through the GamePad."
Click here to check out the recently revealed box art for Splinter Cell: Blacklist.