Jak and Daxter Trilogy hitting PS Vita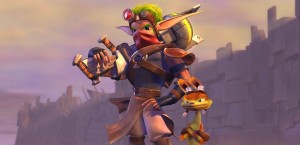 1
COMMENTS
DEVELOPER: Naughty Dog
COMPANY: Sony
POSTED:

@PierceJohnson
---
Naughty Dog has announced that Jak and Daxter Trilogy will be available on the PlayStation Vita in June.
The trilogy was released for the PlayStation 3 last year, but soon Vita owners will be able to experience the adventures of Jak and Daxter on the go.
The trilogy is made up of high-definition remakes of Jak and Daxter, Jak II and Jak 3 from the PlayStation 2.
The Vita version will be refined to include touch based controls for certain mini-games throughout the collection, and feature a different Trophy list to the PS3 version.
The three games will be bundled together for a price of €29.99 EUR.