Capcom slashes DmC Devil May Cry target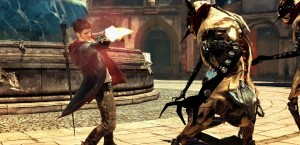 0
COMMENTS
DEVELOPER: Ninja Theory
COMPANY: Capcom
PLATFORM:
Xbox
PlayStation
PC / Mac
POSTED:

@PierceJohnson
---
Capcom has slashed the number of DmC Devil May Cry games it hopes to ship by the end of the financial year.
The original target stood at two million copies, but that has now been knocked down to 1.2 million copies.
One million copies of the game have been shipped since its release last month.
The Devil May Cry reboot hit the number one spot in the UK games chart upon release, but it still only sold a third as many copies as Devil May Cry 4 did in its launch week in 2008.
Those debating whether to purchase DmC Devil May Cry can check out our review.
Earlier this week Capcom reported improved profits over the past year, despite the poor performance of Resident Evil 6.