Killer is Dead given details and trailer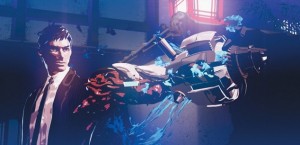 0
COMMENTS
DEVELOPER: Grasshopper Manufacture
PLATFORM:
Xbox
PlayStation
POSTED:

@PierceJohnson
---
Grasshopper Manufacture has revealed new details for upcoming Killer is Dead.
Developer Suda51 told Japanese magazine Famitsu [translated by Polygon] that Killer is Dead isn't a direct sequel to Killer 7 or No More Heroes, but it "picks up where [those games] left off".
It features upgraded graphics but retains the same visual style as the previous two games.
"It's not trying to regress into the past," Suda51 said. "We're trying to make a game that we'd only be able to make right now, at this point in time.
"The result is seen in our unique high-contrast shading seen in the graphics, as well as the high-speed wrestling-like action."
Killer is Dead takes place in the near future, following Mondo Zappa as he is sent on a mission to eliminate assassins.
He wields a sword and has a gun for an arm which can transform into other objects such as a drill.
"It's the story of a man who doesn't show himself much in the public world, but still worms his way into society and mercilessly eliminates the evil dispersed in it," he added.
"It's a personal story, not one that's conscious of the chaos going on in the real world at the moment, but you might get more than a taste of that in the end anyway."
Check out the trailer for Killer is Dead below.
Killer is Dead is set for a summer launch in Japan. It has yet to be confirmed for other regions.