Painkiller: Hell & Damnation delayed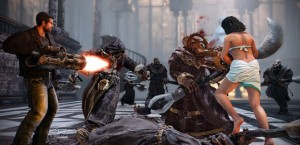 0
COMMENTS
DEVELOPER: The Farm 51
COMPANY: Nordic Games
PLATFORM:
Xbox
PlayStation
POSTED:

@PierceJohnson
---
Nordic Games has announced that Painkiller: Hell & Damnation has been delayed until 5 April.
The 'stunning and painstakingly redrawn high definition' remake of the original 2004 game was initially supposed to launch on consoles this month.
The delay was caused by Nordic wanting additional time to work on the final touches.
"We have been working around the clock to bring the Xbox 360 and PS3 versions of the game in line with the quality and standard of the PC game," said Nordic's Reinhard Pollice.
"There has been a slight delay so that the console communities can enjoy the fiendishly ghoulish experience that we know they want and deserve.
"In taking this additional time to add the final touches, we know that players will realise that the best things do come to those who wait!"
Painkiller: Hell & Damnation involves a man fighting through purgatory after he and his wife die in a car crash.