Standalone DayZ delayed to enhance final product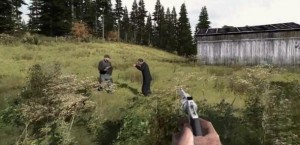 0
COMMENTS
DEVELOPER: Bohemia Interactive
COMPANY: Bohemia Interactive
POSTED:

@PierceJohnson
---
The standalone DayZ game didn't come out at the end of 2012 like initially planned due to a redeveloped engine.
Creator of the zombie survival title, Dean Hall, had previously stated his intention to launch a standalone version towards the end of last year.
The reason DayZ didn't meet its launch target was because of the chance to greatly enhance the experience of the final product.
"Put simply, DayZ Standalone isn't here because we had the chance to go from making a game that was just the mod improved slightly, packaged simply, and sold - to actually redeveloping the engine and making the game the way we all dreamed it could be," Hall wrote on the DayZ blog.
"This blew any initial plans we had dictated to pieces."
Hall claimed that progress was being made and that a closed test will be released shortly.
"The plan from here is straightforward. We will be releasing a closed test imminently, during which approximately 500-1000 people will assist in ensuring our architecture is correctly functioning.
"This closed test will be focused purely on architecture, not the game design. Once we have confirmed fixes for issues arising from the closed test, we will then reschedule an internal date for our public release."
Hall's plans for an earlier release date were influenced by wanting to get DayZ out into the open before similar games were released.
Fortunately the only comparable offering so far has been the much maligned The War Z, which was recently taken down from Steam after being punished for false advertising.