Yoshi's Land listed by retailer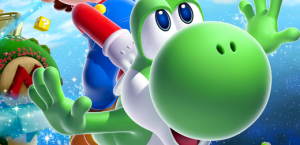 0
COMMENTS
DEVELOPER: Nintendo
COMPANY: Nintendo
POSTED:

@PierceJohnson
---
A Canadian retailer has listed unannounced Yoshi's Land for the Wii U.
A product page for Yoshi's Land is available on Best Buy's Canadian website, the same one that revealed the Wii Mini yesterday.
The listing claims that Yoshi's Land will let players utilise the dual-screen controls of the Wii U and be compatible with the Nintendo MiiVerse.
"Take Yoshi on an epic adventure to remember in Yoshi's Land for Nintendo Wii U," it reads. "Check out Yoshi as you've never seen him before: in glorious high definition.
"Enjoy dual-screen control thanks to the Wii U Touchscreen GamePad, while you'll also be able to experience full integration with Nintendo's MiiVerse service."
We'll bring you more as it breaks.