Uncharted: Fight for Fortune coming to Vita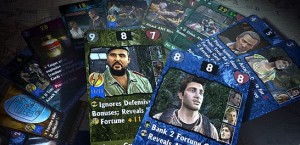 0
COMMENTS
DEVELOPER: Bend Studio
COMPANY: Sony
POSTED:

@PierceJohnson
---
Bend Studio has announced Uncharted: Fight for Fortune for the PlayStation Vita.
The turn-based card game set in the Uncharted universe will have players creating a team of cards containing heroes, villains and mercenaries.
"The rich lore that surrounds the Uncharted universe gave us the opportunity to create Uncharted: Golden Abyss, complete with lush, artifact-filled environments," claimed Bend's Chris Reese.
"With over 300 treasures to be found, we wanted to find a way to allow our fans to delve deeper into the artifact collections and mysteries of the Uncharted universe."
Check out a trailer for the game below.
A European release date and price for the game is yet to be confirmed.