Doom 3 BFG Edition gets launch trailer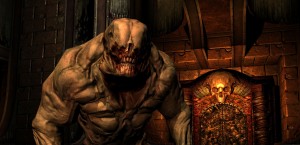 0
COMMENTS
DEVELOPER: id Software
COMPANY: Bethesda
PLATFORM:
Xbox
PlayStation
PC / Mac
POSTED:

@PierceJohnson
---
Bethesda has released the Doom 3 BFG Edition launch trailer.
Doom 3 BFG Edition is a compilation of remastered versions of Doom 3 and the Resurrection of Evil add-on pack, as well as eight new levels of content titled The Lost Mission. All of this content has been optimised in 3D.
The edition also features the original Doom and Doom 2 games.
Check out the launch trailer below.
Doom 3 BFG Edition is set to launch across Europe on 19 October on Xbox 360 and PlayStation 3 for £29.99 GBP and PC for £19.99 GBP.