Preview - EA Sports UFC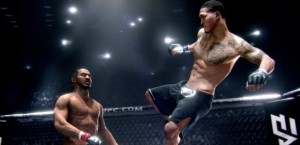 0
COMMENTS
DEVELOPER: EA Sports
COMPANY: EA
PLATFORM:
Xbox
PlayStation
POSTED:

@PierceJohnson
---
"I remember distinctly, I went through some stuff and he looked at me and said, 'That's fucking cool', and I was like, 'Yeah!'"
EA Sports UFC creative director Brian Hayes fondly recalls his exchange with UFC president Dana White. The deal transferring the UFC license from THQ to EA had been done and dusted days before, and now Hayes was having lunch with the face of mixed martial arts to discuss various ideas and concepts for a whole new game.
If that altercation made Hayes appear slightly star struck, he probably was. His enthusiasm for the game and the sport itself is infectious, whether he's talking about training in Brazilian ju-jitsu to grasp an understanding of grappling, or catching UFC events between flying around the world to show off pre-alpha footage of the project. You get the impression that EA Sports UFC is in the hands of a team of developers who really understand the intricacies and nuances of a sport that many outsiders would brand as barbaric.
"He's [Dana White] worked with other guys on other specific features of the game, he's helping us out. Similarly there are other guys in the UFC helping us out. We've already sent a prospective roster to matchmakers Joe Silva and Sean Shelby. So we're working with them, nobody knows the UFC fighters better than Joe Silva and Sean Shelby - the matchmakers!"
Sports games from EA have never failed at recreating the atmosphere and authenticity of the big events, but sometimes they've fallen short when it comes to certain technical aspects. Take the last time an EA studio attempted a mixed martial arts game - EA Tiberion developing EA MMA in 2010 - when there were several nice ideas but overall it failed to inspire a hardcore community who preferred the THQ titles.
This time it's a whole new team up at EA Canada in charge of delivering a game to satisfy a hungry fan base. Not that they're just a bunch of amateurs and novices when it comes to fighting games, a lot of the team has been heavily involved in the critically acclaimed Fight Night series. It's evident that the Fight Night influence is there after having a quick play through of the stand-up portion of the game.
"A large number of the developers working on the game are developers that worked on EA Sports Fight Night," said Hayes. "Ourselves included, we worked on a few Fight Nights. The lead gameplay designer on EA Sports UFC was the lead gameplay designer on Fight Night Round 3, and a lot of the engineers have worked on it as well."
That looks to be a very good thing. Our hands-on involved a fight between lightweight stars Anthony Pettis and Ben Henderson, two warriors renowned for putting on entertaining shows. It's so early in development that we could only get a taste of the striking portion of the fight, but we like what we've seen so far. Punching and kicking just feels so fluid and smooth, and the fighters move around the cage and close down space much more naturally.
UFC superstars will also have their own specific moves, so players should be able to pick their favourite fighters and perform the crazy strikes that they're known for. Notably that also includes strikes using the cage.
"We're going to be the first game - thankfully we're really lucky to have this - but we're going to be the first UFC game or MMA game where you're able to do cage based strikes," Hayes adds excitedly. "So you know, the famous Anthony Pettis showtime kick, or Jose Aldo's superman punch off the cage, any other crazy thing that Pettis does when he gets in the ring, we're trying to incorporate those dynamic cage based strikes in the game as well."
And while we're yet to see what happens when a fight does inevitably hit the ground, we're assured that a whole new submission system will reflect the minute details of ju-jitsu much more effectively than previous games. This means that players won't be able to just tap a button and be seconds away from winning a fight, they'll have to work to get that dominant position.
"There's a totally new [submission] system in place. Fundamentally the thing that we realised about every other approach to the submission game in an MMA game is, 'I'm going to press an input' and then you already advance to essentially the final stage of any submission. If it's an armbar you're already in a position where you've got both your legs around the other guy's body and it's fully extended. We wanted to bring a more stage based, strategic battle between the offensive and defensive fighter to life.
"So it's about, 'Is he going to let me put my legs over him?' 'Am I going to be able to break his grip and extend that one arm?' Before we even get to that extended position there's going to be several stages where the offensive and defensive fighter battle to see if you can get there."
EA Sports UFC is still so early in its lifecycle that it's too soon to talk game modes and other specifics, but our hands-on and time with the development team has us confident that the UFC did the right thing by partnering with EA. This is shaping up to be a must-buy for UFC fans and a very interesting prospect for players of fighting games in general.