Marvel Heroes gets trailer, screenshots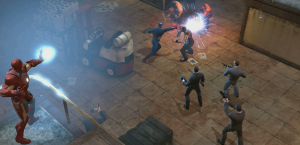 0
COMMENTS
DEVELOPER: Gazillion Entertainment
COMPANY: Gazillion Entertainment
POSTED:

@PierceJohnson
---
Gazillion Entertainment has released new screenshots and a trailer for upcoming Marvel Heroes.
The free-to-play MMO is being shown off at Gamescom 2012, with players having to battle through the war-torn streets of Mutant Town and Fort Stryker to defeat Magneto.
Classic Marvel characters such as Iron Man, Thor, Wolverine, Hulk and Spider-Man will be playable.
President and COO of Gazillion Entertainment, David Brevik, said: "The game really is the perfect blend of action-RPG gameplay, the persistence and multiplayer features of an MMO, and the incredible legacy of the Marvel Universe."
Marvel Heroes doesn't currently have a release date.