Marvel Heroes given spring release date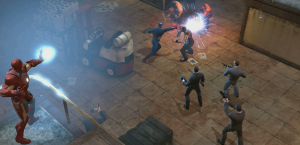 0
COMMENTS
DEVELOPER: Gazillion Entertainment
COMPANY: Gazillion Entertainment
POSTED:

@PierceJohnson
---
Gazillion Entertainment has confirmed that free-to-play MMO Marvel Heroes will launch spring 2013 for PC.
It will be followed by a Mac version, according to Blizzard North co-founder David Brevik.
A Founders Program was also announced, with Starter, Premium and Ultimate Founders packs.
Each pack contains a different amount of heroes, costumes, in-game currency and more.
Click here to find out more about what comes with each pack.
"Our team is hard at work to make sure Marvel Heroes is true to hardcore players, Marvel fans and the most casual of gamers through deep, MMO action-RPG gameplay, an expansive interactive storyline and easy-to-play experience," said Brevik.
Check out a trailer for Marvel Heroes here.