Final Fantasy XIV is a Realm Reborn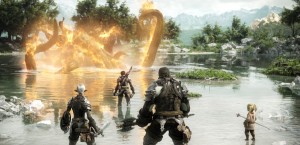 0
COMMENTS
DEVELOPER: Square Enix
COMPANY: Square Enix
PLATFORM:
PlayStation
PC / Mac
POSTED:

@PierceJohnson
---
Square Enix has announced Final Fantasy XIV: A Realm Reborn.
Last year Square Enix said MMORPG Final Fantasy XIV would receive a complete overhaul. The result will be A Realm Reborn.
The game has been rebuilt from the ground up, featuring a new world and storyline.
Producer of Final Fantasy XIV, Naoki Yoshida, said: "Since announcing our plans for the future of the title last October, we have been working tirelessly to include all of the elements that we have promised in Final Fantasy XIV: A Realm Reborn.
"This new title not only becomes a symbol of completely new Final Fantasy XIV, but also marks the beginning of a new stage as the latest title in the Final Fantasy series."
Final Fantasy XIV: A Realm Reborn is set to launch early next year for PS3 and PC.