Project Cars announced for Xbox One and PS4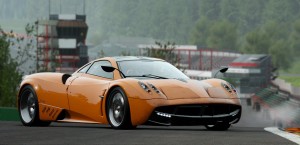 0
COMMENTS
DEVELOPER: Slightly Mad Studios
PLATFORM:
Xbox
PlayStation
Nintendo
PC / Mac
POSTED:

@PierceJohnson
---
Slightly Mad Studios has revealed that Project Cars will be heading to the Xbox One and PlayStation 4 in 2014.
The "crowd-powered" racing simulation will still be heading to PC and Wii U as planned, but it looks as though Xbox 360 and PlayStation 3 versions have been scrapped.
Project Cars will also be arriving on Steam OS.
"Project Cars has always led the pack in terms of insane detail," said head of the studio Ian Bell.
"Whether that's graphically in the craftsmanship of our cars and tracks, technically in the way we've approached weather and time of day, or emotionally in how each car feels and responds to your touch.
"These powerful new platforms allow us therefore to not compromise on the quality of our vision and ultimately that means players are going to experience something truly breathtaking when they get behind the wheel."
Project Cars is expected to launch around autumn 2014.