Dishonored: The Brigmore Witches out in August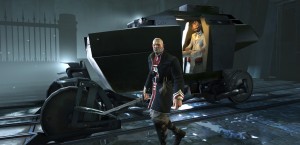 0
COMMENTS
DEVELOPER: Arkane Studios
COMPANY: Bethesda
PLATFORM:
Xbox
PlayStation
PC / Mac
POSTED:

@PierceJohnson
---
Bethesda has confirmed that the last add-on for Dishonored will arrive 13 August for Xbox 360, PlayStation 3 and PC.
The Brigmore Witches finishes off the story of assassin Daud, the protagonist of previous DLC The Knife of Dunwall.
Players will see even more of Dunwall as Daud aims to stop an evil witch from completing a powerful ritual.
The Brigmore Witches will be priced at 800 Microsoft Points or £7.99 GBP.
It's likely that a sequel to Dishonored will be made in the future after the game's commercial and critical success.
Click here to read up on our Dishonored review.