Capcom: DmC will only sell 1.15million units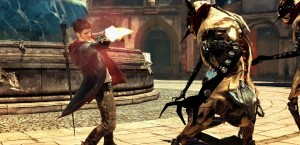 0
COMMENTS
DEVELOPER: Ninja Theory
COMPANY: Capcom
PLATFORM:
Xbox
PlayStation
PC / Mac
POSTED:

@PierceJohnson
---
Capcom has revised the sales forecast of its games for a second time, saying that "excessive outsourcing" has caused a decline in quality.
DmC Devil May Cry is now expected to shift 1.15million units, down from 1.2million, which itself is way down from the 2million units originally predicted.
Resident Evil 6 has also been revised down from 5million sales to 4.9million. Capcom had initially hoped it would sell 7million copies.
The publisher blamed the low figures on not taking the digital contents market seriously enough, a "decline in quality due to excessive outsourcing" and poor overseas marketing and development.
Earlier today it was revealed that Capcom was halving its expected profit for the financial year down to £19million GBP.
We were fairly impressed with the DmC Devil May Cry reboot. Click here to check out our review.