Sniper: Ghost Warrior 2 penned by big movie writers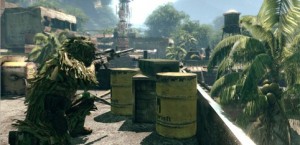 0
COMMENTS
GAME: Sniper: Ghost Warrior 2
DEVELOPER: City Interactive
COMPANY: Namco Bandai
PLATFORM:
XBOX
PS3
Wii
Handheld
PC
POSTED:

@PierceJohnson
Sniper: Ghost Warrior 2 has been written by acclaimed movie writers, according to producer Michael Sroczynski.
The sniper-focused shooter is finally set for a release next month after numerous delays.
Sroczynski believes that the story in the sequel is much improved over the original, due to the work done by experienced movie writers.
"We have cooperated with a few acclaimed movie writers on the main plot this time," he told ArabicGamers.
"Their role was mainly to provide a firm 'scaffolding' to our ideas on how the game should feel.
"Our internal narrative designers were keeping an eye for the game not to pass a certain point and become a movie-like experience where you watch more than play.
"This time around, the story is much more complex and immersive."
We'll be publishing our full Sniper: Ghost Warrior 2 interview later this week.