Army of Two: The Devil's Cartel encourages 'cooptition'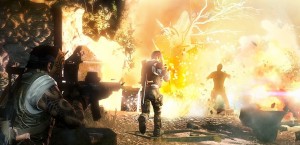 0
COMMENTS
DEVELOPER: Visceral Games
COMPANY: EA
PLATFORM:
Xbox
PlayStation
POSTED:

@PierceJohnson
---
Upcoming Army of Two: The Devil's Cartel encourages player 'cooptition', according to Visceral Games producer Greg Rizzer.
The Devil's Cartel has a strong focus on teamwork with two-player co-op, but it also has players competing against one another for the better score at the end of each level.
Rizzer describes this as 'cooptition', with players always wanting to better their partners.
"I call that cooptition!" Rizzer told ArabicGamers. "I like the fact that what we're doing here is having this report card, having this thing that says, 'Hey, we just completed this together, congratulations... But I was a little bit better'.
"And that's nuts because it compels you to want to do better than your partner."
Rizzer also believes that the chance to play with friends using two-player co-op encourages replayability.
"That's the thing about the industry right now, is that you play it, and you get rid of it.
"We wanted this to be one of those games where you play it, and then you know you have friends coming over and you can say, 'Hey, let's fire this up', load up the split screen and play on the couch.
"I think that will be one of the reasons why people would want to hold onto this game, in case friends wanted to come over and play."
You can read up on a lot more about Army of Two: The Devil's Cartel in our preview.