Preview - Army of Two: The Devil's Cartel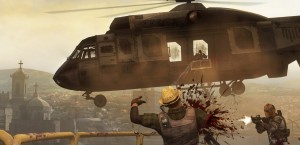 0
COMMENTS
DEVELOPER: Visceral Games
COMPANY: EA
PLATFORM:
Xbox
PlayStation
POSTED:

@PierceJohnson
---
When EA and Visceral Games announced a reboot to the Army of Two franchise it's fair to say there was a mixed reaction amongst the gaming community. The first two games were noted for their great co-op play and replay value but also a lack of substance when it came down to the storyline. We managed to go hands-on with Army of Two: The Devil's Cartel to see if Visceral could revive a series that has shown a lot of potential in the past without ever really delivering that 'must-buy' game.
Firstly a bit of background information, The Devil's Cartel follows two characters creatively called Alpha and Bravo, who are employees for Tactical Worldwide Operations. Their mission is to infiltrate a drug war conflict on the streets of Mexico and they've pretty much been given free reign to dish out all kinds of havoc and destruction along the way.
We pick The Devil's Cartel up from a level titled Ghost Town, which is located a bit further into the game. The drug cartel has taken control of an old mining village so Alpha and Bravo are going to attempt to take it back, by any means necessary. Drop-in, drop-out online co-op is offered alongside the traditional split-screen two player experience. We took the challenge up with a partner and it wasn't long before we found ourselves in a seemingly impossible situation, pinned down behind a wall under fire with enemies circling us.
This, we soon find out, is the best time to trigger the Overkill mode. Overkill can be accessed when players gain enough points to fill a meter, and once activated it allows you to dish out an extra amount of damage over a short period of time, meaning difficult situations can be resolved far easier. Players can also choose to trigger Overkill together, which sets off a bullet time effect and makes it much easier to clear a room.
It's these intense, high-pressure situations where The Devil's Cartel thrives, causing chaos happens to be a very fun pastime. Working together with your partner is your best chance for survival as there are more than enough enemies trying to stop you in your tracks. Knowing when to stick together or split up could be the difference between life and death.
As we move through the level we start to notice how we can manipulate the environment to our benefit. The Devil's Cartel is powered by the Frostbite 2 engine found in Battlefield 3, meaning that a lot of the obstacles in front of you are destructible. This is a great addition as it allows you to look at the battlefield tactically and attempt to take out crates or walls that adversaries might try to take cover behind, not to mention how entertaining it is to destroy everything in your path. Just make sure to leave some cover for yourself.
If the bad guys do manage to wound you then there'll be a short period of time where your partner can revive you before you bleed out. This also leads to a stronger cooperative playing style as you'll never want to take the battle into your own hands and stray too far from each other in case one of you goes down.
The level culminates in a frantic helicopter fight, Hollywood style. Your cover is easily destroyed from above so you'll have to keep moving around to avoid being pinned down for too long, taking shots when you think it's safe to do so. It's a tricky challenge but doable if you stick close to your partner and make sure to revive one another when needed. Don't be surprised if, upon completion, you let out a deep breath, turn to your partner and congratulate each other. Generating this level of reaction from players is one of the biggest compliments you can pay to The Devil's Cartel.