Nintendo details New Super Mario Bros. U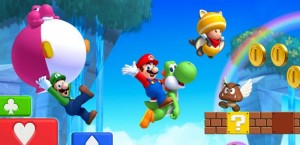 0
COMMENTS
DEVELOPER: Nintendo
COMPANY: Nintendo
POSTED:

@PierceJohnson
---
Nintendo has given new details for New Super Mario Bros. U for Wii U.
The game will look familiar to previous Mario games with a side-scrolling view but it will feature a seamless world map with named worlds and courses.
Players can go through secret exits to alter the map and as the worlds are interconnected you can play through the game however you want.
Nintendo also announced modes for the game, including a Challenge Mode where players must complete specific tasks and a multiplayer Coin Battle mode.
New Super Mario Bros. U will also feature a new creature called Nabbit. Players who catch Nabbit will be rewarded with a P-Acorn which lets them fly continuously through an entire stage.
New Super Mario Bros. U is a 30 November Wii U launch title.