F1 2013 Review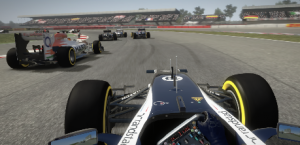 0
COMMENTS
---
With the F1 season in full swing and the brilliant Rush in cinemas, Codemasters' F1 series takes to the grid once again but this time its bought some old friends along for the ride...
There aren't many video games that manage to overwhelm you with their sheer volume of content and modes. Halo: Reach and FIFA 14 are two titles that instantly spring to mind, offering so many ways to play their game that you're unsure quite where to start at first. FIFA, in particular, bewilders with its sheer breadth and scope: from starting your own multiplayer football club to a trading card game of fantasy football, you may still be discovering new modes in a FIFA game months after its initial release. But three years ago, when Codemasters' first console F1 game was released, you could only have said the opposite. The core game was certainly there, and it was quite sublime gameplay at that, but surrounding it were scant offerings – little more than a career, season, single race, and some basic multiplayer modes were available. It was meat-and-two-veg with no room for appetisers or side dishes.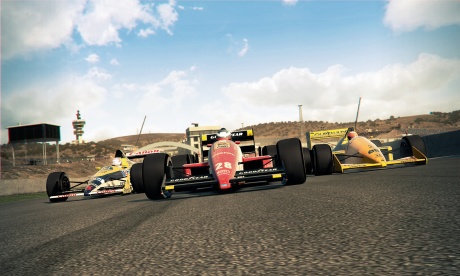 What a difference three years can make, then. For the first time, Codies' F1 series feels likes its pulled itself into the premier league of sports games. Not only is it a great game, but it can also satisfy its hardcore enthusiasts as much as players who'll only dip into it for an hour or so each week. The career mode and core gameplay are as deep as ever, but now there are also numerous satellite modes that can be perused and sampled during short gaming sessions. Slowly but surely, Codemasters has been building on the game with each iteration – last year they added the 'Co-op Championship' & 'Season Challenge' modes, and the year before that it was 'Proving Grounds'. They've also been rebuilding and refining based on experimentation and fan feedback, converting features such as 2012's 'Champions Mode' into a more general 'Scenario' mode this time around.
Undoubtedly the headlining new content this year, though, is the F1 Classics mode. It is the fleshy maggot that Codemasters has used to bait its publicity lure for this year's edition, offering the opportunity to race cars from bygone eras on circuits now maligned to the history books. Fantasy combinations such as Niki Lauda's 1976 Ferrari at Brands Hatch, or Nigel Mansell's Williams FW14B around Imola are not only entirely possible, but eminently enjoyable. Codies has lavished as much attention to detail with these classic cars as it does the main F1 line-up every year, bringing authentic handling and sound effects to life. Fine details such as the turbo-charged hum of 80s F1 cars, or sparks spitting from the rear of pre-skid block 90s cars all add immeasurably to the experience. From this perspective, the F1 Classics mode delivers with all 12 cylinders and then some.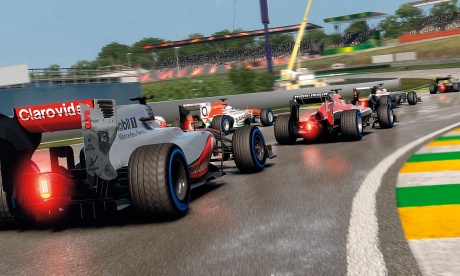 Where it falls down a little, perhaps, is with the range of cars Codies has managed to license, and as a result the kind of scenarios they're able to place them in. Only three manufacturers are present in the mode (Ferrari, Williams, and Lotus) and the range of classic drivers are limited too, with odd decisions in places. One memorable example casts David Coulthard as a 'Team Legend' for the 1992 Williams team, which seems a little strong as he didn't even test drive for them officially until the following season and only raced with them during 2004. What's more likely, perhaps, is that Codies were unable to use the team's original No.2 driver, Riccardo Patrese due to any number of potential licensing or budgetary limitations. Indeed, it's a touch miraculous that the developers have managed to put any of this together in the first place – tracking down the licensing rights to now defunct companies that sponsored racing teams two decades ago must have been quite an undertaking.
Even at that though, it still feels a bit paltry at times. Racing 'Scenarios' are seemingly fabricated out of thin air, and are wildly anachronistic. Cars spanning multiple eras are placed on track side-by-side to fill-out grids, with a 1992 Williams alongside 1999 Ferraris and objectives that simply tell you to 'Finish in front of the Ferraris'. Perhaps it was a touch over-optimistic, but we'd been hoping for genuine historical scenarios based on classic races: Senna holding off Mansell in the 1992 Monaco Grand Prix, or Schumacher vs. Villeneuve at Jerez in 1997 for example. As it is, there's a kind of 'Grand Prix Masters' feel to it all, as in tennis when McEnroe takes on Sampras in some exhibition game these days, and it sounds delectable on paper but is ultimately meaningless in practice. Still, at least Murray Walker serves as the voice-over guide for the whole 'Classics' HUB of the game, and hopefully there's scope to expand the mode with more authenticity if it's a commercial success this year. As experienced F1 gamers will likely only get a few hours out of the content that's currently available in the mode, they'll soon be chomping at the bit for more and perhaps next year's game on next-gen consoles is the perfect place to provide it...
Beyond that though, F1 2013 takes the kind of steps forward that you'd expect of an annualised series: drivers, teams and cars have been fully updated, bugs have been ironed-out and gameplay tweaked, user-interfaces have been redesigned and refined, and load times have been reduced. Similarly to how the additional content this year manages to push the game into bursting-at-the-seams territory, all of that smoothing-out and buffing throughout the whole experience successfully disguises all the rivets holding it together and makes for an entirely seamless product. Three years ago it was a game that took an age to load with very little sheen across the menu screens, but today its design standards put it up there with any triple-A game on the market. It now not only plays like a genre leader, but looks and feels like one too.
No mater how impressive the final package, however, there's always room for improvement. The AI, for example, remains the sharpest, quickest, most challenging and believable you'll find in any racing game bar none, but it still behaves a little oddly from time-to-time – there's the occasional sense that it may even be a little too smart, as when slower cars dart unpredictably off-line to let you pass and you plough straight into them in an overtaking attempt. We're splitting very fine hairs at this point though, as if we've been given a paper bag full of £50 notes and are demanding it be provided in a briefcase. When it comes down to it, you really couldn't ask for more out of the game's fundamentals. The handling system, in particular, nails the formidable sensation of controlling an 800bhp F1 car. With driving aids set to off and manual gearing on, it's enough of a challenge just to find grip and get the power down out of slow corners – throttles have to be eased up to fully open, and brakes guided down to full; the importance of staying 'off the marbles', keeping your tyres clean, and avoiding lock-ups becomes a mini-game in and of itself.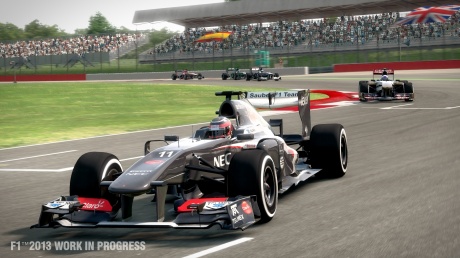 There's no doubting the thoroughbred racing pedigree of F1 2013. You'd be hard pressed to find any driving game that straddles hardcore simulation and accessible gameplay anywhere near as well as this one does – perhaps also, for the first time, it feels like a truly vast game with enough additional modes to keep even the most hyperactive gamers happy. Our one major criticism is that there could be more breadth and detail to all of this content. As long as people keep buying it and the rate of improvement remains constant, it won't be long before Codemasters can deliver on all of this vast potential. It remains the best F1 game that's ever been made, and now by quite some margin too – here's hoping it stays that way for years to come...