FIFA Street review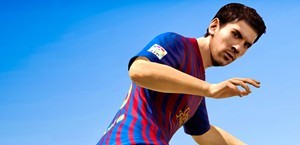 0
COMMENTS
DEVELOPER: EA Sports
COMPANY: EA Sports
PLATFORM:
Xbox
PlayStation
POSTED:
---
Ah, the reboot. That back-to-basics, last-gasp swipe at a floundering (or forgotten) franchise seems to be de rigeur at the moment. While Duke Nukem Forever and, more recently, Syndicate have worked tirelessly to prove that the reboot is about as welcome as a fart in a hot car, the revival of Deus Ex and SSX make a pretty strong case in its favour. So where does FIFA Street sit on the success/hot car fart spectrum? Well, I'll tell you. Via the medium of words. About 1000 of them.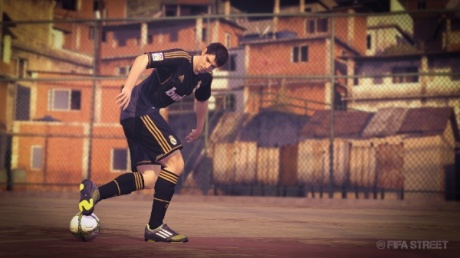 EA's approach to this latest iteration in the street soccer series is centred on realism. This isn't a game about exaggerated physics, shonky animations, whooshy sound effects and bicycle kicks. Actually, you can still do bicycle kicks. But no, this is a game rooted more in the reality of street/trick football with the developer looting the innards of the FIFA 12 engine to create something much more interesting than the arcadey thrills of its predecessors.
From your first few seconds at the sticks of FIFA Street, you'll notice a dramatic difference. Not only has the series jettisoned its stylised caricatured visuals, the gameplay has also had a major overhaul. Using its stable mate's Impact Engine, Street's players now move and collide realistically – there's a definite weighty feel to the game that has been hitherto absent from the series. In fact, it feels so familiar, that it was initially hard to condition myself out of FIFA 12 gameplay. Suffice to say, a patient, continental passing and possession game will not get you very far in FIFA Street.
The smaller environments and, you know, the central premise of street football, mean that the focus is on using tricks and flair to create enough space to make that pass/take that shot. Using right stick movements for tricks and L1 as a flair modifier for shots and passes feels perfectly familiar to a FIFA stalwart, but it's the L2 action that offers up something new. Known as Street Ball Control, holding L2 roots your player to the spot while allowing you to manipulate the ball with the left stick. This pits you against a defender in a self-contained one-on-one conflict and this is really where the heart of FIFA Street lies. Shield the ball from him, dazzle him with movement, bait him into a challenge and sprint away.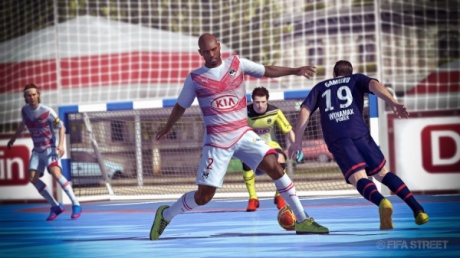 It works beautifully and, once you realise that you can move seamlessly between Street Ball moves, right stick tricks and ball juggles (achieved by tapping R1), you realise just how much depth lies in Street's core gameplay. This is a game which rewards inventive play and combinations to such an extent that you'd be forgiven for thinking you were playing a fighting game. Sure, you'll need to memorise a fair few tricks, but once you start chaining moves together, you'll find Street's attacking play to be very satisfying.
Sadly, the same cannot be said for the defensive game. Now, obviously football's never as much fun when you don't have the ball – I realise that – but in FIFA Street, defending errs a little too strongly on the side of tedium. Using FIFA 12's Tactical Defending system, you must use the press and tackle functions wisely to contain opponents and regain possession. Which sounds perfectly reasonable but in practice this basically just means holding down the press button until you think it's time to press the tackle button. And, this being a game about skills and tricks, it can be extremely difficult to time your challenge against more skilful opponents. As I rose through the difficulty levels, my frustration levels grew in direct proportion. Now, it's hard to aim too much criticism at the developer here as the nature of street football limits the options for defensive play - that ever-so-satisfying sliding 'reducer' wouldn't really sit well here - but it feels like EA hasn't quite struck the ideal balance between assistance and interaction.
Street's main downfall, however, is a lack of presentational depth. That's not to say it isn't nice to look at – player models and arenas are crafted to a high standard, for instance – it's just that the street football world it creates feels a little flat and unimaginative. This is none more evident than in the flagship World Tour mode. In this single player career mode, you'll build a team of players and compete in local events before heading abroad with the ultimate aim of playing in the world finals in Brazil. EA does an adequate job of mixing things up and you'll have a variety of game (and arena types) to compete in. The standout is Panna mode – a 2v2 face off in which you have to earn points by out-tricking your opponents and then "bank" the points by scoring a goal. It's a brilliantly addictive game mode and the point-bank system means you can feasibly pull off some amazing comebacks.
However, while a variety of game modes is a smart addition, the World Tour soon starts to feel like a slog. Too much time is spent in map screens and player upgrade menus and, barring the occasional 'correspondence' screens in which you receive an email or a text message (EXCITING!), you don't feel that the World Tour is anything more than a long series of increasingly difficult matches. Given EA Sports' recent commitment to single player innovation (see Fight Night: Champion), it's disappointing. It also feels like the developer missed a trick by omitting FIFA's Be a Pro mode which, in small teams with skill-focused gameplay, would surely be a hit.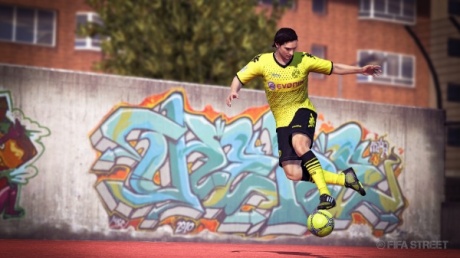 But one thing the World Tour does well is integrate its online mode. Each event you compete in allows you to play against varying levels of AI difficulty (with appropriate rewards), but you can also choose to play them online. The game's clever localisation means that, more often than not, you'll end up playing someone geographically close to you, which is a nice touch. Unless, that is, they're infuriatingly better than you at which point you'll go sheepishly crawling back to the AI mumbling something about lag/cheating.
Despite the rather lacklustre single player presentation, however, it's hard to view FIFA Street as anything other than a successful rebirth for the series. The smart focus on realism and the tight, satisfying skill-centric gameplay mean that EA has somehow managed to carve an essential new niche in its own football model. It feels both familiar to, and more importantly distinct from, FIFA 12, offering a new football experience and, one would imagine, has justified its existence for the next couple of years.